"We had used Nu-Life Cabinets at our previous home…so when it came time to do a kitchen remodel in our new home, we knew we wanted Nu-Life Cabinets to do the project. Ray and his team are so easy to work with, making suggestions when they could tell we needed a little direction. The Nu-Life Cabinets team is very friendly and polite. The workers attention to detail and ability to make the entire process go smoothly was greatly appreciated. We had to have a litte extra work done, it was scheduled and done with no delay to the project. Thank you Nu-Life Cabinets, our remodeled kitchen and dining room look great!"
"I appreciated all the cabinet choices, excellent design ideas and perfect measurements. I loved my work crew. They were on time and worked the whole day. I never had any problem getting a hold of Ray, and the phone person was always so nice. I LOVE MY KITCHEN!"
I am thrilled with my "new" kitchen, courtesy of Nu-Life, moving from oak to modern.  And, it was tremendously helpful to vet ideas with their designer beforehand.  It's exactly what I wanted!  (We did this kitchen during Covid 19 and we used our wonder color designer to come up with just the perfect color for Kathleen.  Janel our color designer we used face-time to work through all the colors to keep help protect Kathleen and her home.  Thank You Kathleen for the opportunity to work with you.)
"Jason and I have nothing but positive things to say about our kitchen remodel by Nu Life Cabinets.  From the very beginning, Ray took the time to walk us through our many options for cabinet refacing colors, countertops, hardware, and options for adding storage and expanding our kitchen island.  He was responsive to all of our questions and made multiple trips to our house to make sure we were on the same page and had all of our needs met.  Additionally, price-wise, after meeting with multiple contractors, we felt that Ray's ability to offer us a hybrid model of cabinet refacing and new construction was by far the most economical option saving us thousands of dollars without sacrificing quality.
We were blessed to have James and Brian take care of completing our kitchen remodel,  They were super friendly, took the time to answer our questions, kept us updated on the whole remodel process, and were flexible with tweaking plans and making changes as they progressed through their work.  Our three boys (14, 11, and 8) stated multiple times how nice they thought the guys were, and how comfortable they were with them working in our home.  We couldn't have asked for a better team to work with.
In the end, we are totally amazed at the transformation of our outdated kitchen into a showroom worthy masterpiece – we couldn't be happier!"
Jason and Karen Nelson – Ankeny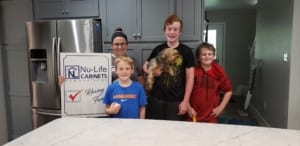 "The whole team at Nu-Life was helpful and friendly throughout our entire kitchen remodel.  We weren't really sure how to get started with this being our first home, but Ray and crew made things very easy on us and explained every step of the process.  These guys take great pride in their work and it shows!"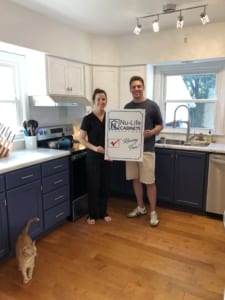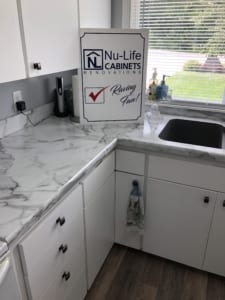 Ray and the Nu-Life Team did a fantastic job on our kitchen/bath/windows and door remodel. We weren't actually sure what we wanted and Ray made several suggestions and gave us a couple different options to think about. He was never pushy and he really listened. He even came up with a custom design for a 2-level movable Island that we really wanted.
The crew was always very professional and courteous and they kept you informed as to what they would be working on each day. They also made every effort to keep the dust down and did an excellent job of cleaning up at the end of each day.
We would highly recommend Ray and the Nu-Life solution any day. Thanks for a job well-done!
Rita and Grant Wolf — Ottumwa, IA
"The employees were always polite. They did all that they could to please us. They made an inconvenience experience much easier. I love my new kitchen!"
"We had a very positive experience from the start. Ray was friendly, helpful and worked with us to meetour budget. Every professional was also friendly, respectful and professional. Several times the employee called me with questions if I was away from home to make sure it was exactly what I wanted. They protected our floors and furnishings. Ray was on top of everything! My new kitchen is amazing, functional and beautiful! Thank you Nu-Life."
"It was our distinct good fortune to have Nu-Life Cabinets remodel our kitchen. Ray was so professional and supportive as it took me a long time to pick out door designs and color. At no time did I fee hurried or pushed. The team that came was always respectful of our home. They attempted to keep dust at a minimum and cleaned up when each day was done. They were timely and finished the project as described. I would highly recommend Nu-Life Cabinets for your remodeling projects!"
"We signed contract in July. Started work in mid September on the exact date promised by Nu-Life. All work completed in four days, beating the estimated schedule of five days. Careful, considerate and polite workers. Good dust control inside our home. Very good workmanship and quality materials throughout. Creative problem solvers with several difficult existing kitchen cabinet details. Quality of new cabinet doors is perfect. Exact fit on every new cabinet door. Refacing materials are twice the thickness of their competitors at 0.25 inch thick. Nu-Life volunteered to re-make one cabinet door when installer changed the refacing detail to a simplier and much improved detail. Overall grade of "A" for quality. Not the low bid, however the best value considering the thickness of refacing materials and the perfect quality cabinet doors. I would hire them again."
"Ray and his team have excellent customer service. From consulting and listening to our kitchen needs, budget and wants, they listened and found the perfect products to make our dream kitchen a reality. They customized a hood and mantel as a beautiful focal point to our update, refaced cabinets, added crown molding and were meticulous in the process. The team was very polite, trustworthy and communicated with us throughout the process. We love our new kitchen and look forward to working with Nu-Life for future projects!"
"My initial meeting with the showing of sample cabinets is what really sold me! I could tell the craftsmanship was very high quality. I felt that everyone I dealt with from Nu-Life was very professional and listened to my needs and helped with designing my kitchen. I truely love the cabinets from the quality to the richness of the stain coloring. I also love the wonderful tiling job that was done on the island – it is perfect! I know they worked very hard on this project. I'm extremely pleased and appreciate everything!"
"The overall experience was outstanding! Ray helped us decide how to design a rarely used built in desk, to provide more storage and keep the desk top for counter space. The staff at Nu-Life were courteous and professional, and they set the bar high, by which we will measure all service people. Very pleased with the results!"
"Sales call was great! Very Polite – Very Tidy – I am very SATISFIED with the install."
"Thank you for doing a good job and being very dependable. You guys were very good to work with, and we are pleased with the remodel job. We are finishing the rest and will be finished soon. Also, I have recommended Nu-Life to others. Thank you for everything."
"Very good! I now have a new updated kitchen and am so proud of this. Nu-Life did a wonderful job and the clean up was great!"
"Ray came and helped me envision a new kitchen, answered my numerous questions (patiently I might add), and was flexible when I changed my mind! The team did an excellent job executing the design and were so friendly in the process! I felt like I was in capable, competent hands through the whole process and am THRILLED with the results!"
"Don't really know where to begin, but I'm so pleased with my kitchen. Anyone who has seen the transformation is impressed. Those who don't know think both sides of the kitchen are new! And the one is refaced. There were 2 young men who did the work, and they were amazing. Both in their work and personality. I especially appreciated their cleanliness. Messes are expected during construction, but they kept things at a minimum. We enjoyed working with Ray and his team. Will definitely recommend them to anyone looking to have work done."
"Our experience with Nu-Life Cabinets was great! From start to finish, Ray and his crew kept a level of professionalism and quality of work that would be hard to match. I would highly recommend Nu-Life for any kitchen remodeling job!"
"We had quite a time of looking at a lot of different cabinet makers, and was having a hard time choosing. When Ray brought in a demo and showed the cabinet door to us, we saw how the cabinet was made and knew then, that we were going with Nu-Life Cabinets! Even though they were a bit higher in cost to some others, we knew that these cabinets were built much better and were way more solid. The crew were easy to work with and they were willing to answer questions and very friendly. After installing these cabinets, we knew we made the right choice! They look and work great!"
"The whole team at Nu-Life Cabinets are very friendly, helpful and did a great job! They let us know about everything that was going to be done."
"From the very beginning to the end, everyone was very polite and helpful. I needed someone to go over ideas with me. The estimates to the final cost were made plain to me all the way. The installers were very polite and friendly. If I didn't like something it was taken care of. I am very happy with everything! Also, thanks for cleaning up each day!"
"I am extremely pleased with all the work done by Nu-Life. The crews are courteous and respectful and take pride in their work. I could not be more pleased. If I move, I will definitely start over with Nu-Life! I still have work to do, so rest assured, you will be doing my work! Thank you for the excellent service and end result! I have recommended you highly!!"
"I am very pleased with the work that Nu-Life did. Very polite, hardworking and pleasant team!"
"I think the overall experience was very good. The Nu-Life crew did a great job of explaining what they were doing as they progressed with the project. We are very pleased with our cabinets."
"A+ EXCELLENT! I always wanted to remodel my kitchen but unable to afford it. A neighbor suggested getting the cabinet doors redone. I looked in the yellowpages and liked the name Nu-Life. So I gave Ray a call. I was very impressed with him at the first visit. He came across as being honest and didn't try to persuade me in to anything. I felt that his estimate was reasonable. I am very impressed with the new kitchen look. Had new doors put on, the cabinets painted, installed a corner floor cabinet and applied backsplash. Not too good at remembering names, but the workers were great! Always came when they said they would be there. In fact, always called about 20-30 minutes before. Always cleaned up before they left. They were very polite, professional and best of all, did a great job!! I would definitely recommend them."
"I am so pleased with the doors you installed for me above my fireplace. Also, I was happy with the young man you sent to install the doors. He did a great job and left nothing to clean up after. I would a few business cards to pass out. There have been several of my neighbors who asked me who did the work."
"Nu-Life did a completely amazing job retrofitting my old built-in entertainment center into a modern, beautiful home for our new 60″ television. Originally, the unit was built to a house no bigger than a 35″ television, plus, it had shelves on either side that just gathered dust. Now, our new television fits perfectly into the new opening and they custom made cabinet doors to cover the open shelves which provides loads of new storage! Best of all, they used a darker finish that makes the unit look like a custom made piece of furniture. The staff was very professional and extremely courteous to us all, including our puppy! I would highly recommend this company to anyone looking to make changes to existing cabinetry. I plan to use them in the future for a bathroom vanity remodel."
From, Nu-Life — Meg's chocolate store is a midwest treasure, make sure you stop in and taste their creations. My wife loves their tasty morsels; as she puts it yum, yum, yum!!!! Make sure you visit their store at 100 Grand Ave West Des Moines Ia, or their website. www.chocolatestory.com
"Nulife Cabinets had been recommended to us when we began our search for a new custom kitchen. We chose Nu-Life because they were very knowledgeable and gave us guidance and many different options when it came to our design plans. They listened to our concerns and made helpful suggestions. Their goal was for our kitchen to be exactly what we had imagined, and, it exceeded our expectations! Nu-Life's attention to detail, craftsmanship and professionalism far exceeded our hopes. They were accommodating with any design changes and always respectful of our home and time. Our kitchen turned out better than we imagined right down to the smallest detail. We love it!! We would choose Nu-Life Cabinets again for any of our future needs."
From Nu-Life — Stop and visit Victoria at "Wicker and the Works" located 300 4th St. in West Des Moines! It has all kinds of wicker items and some fun and unusal pieces too. If you are looking for a groovy gift, she has it!Please check out her website: www.wickerandtheworks.com
"I just wanted to tell you how pleased I am with the way my kitchen turned out!! I thought it was going to be a lot harder and when you told me "no problem" on all my requests, I really had my reservations. I have had experiences where the contractor made it sound easy, but somehow it never turned out that way. But, with your expert team I was astonished how effortlessly everything went. Your crew was wonderful and made all the changes perfectly. The timing was as promised and I was thrilled with the results. I will be recommending your company to anyone that asks. The cost was half of other estimates and the result incredible. I would put my kitchen as one of our best projects we have ever had the pleasure of doing. Thanks for the great experience!!!"
"Nu-Life Cabinets did a great job re-facing my kitchen cabinets!! They were on time, very pleasant to have in my home, and they made a nice change in just a few days!!"
"We made a stop at the home show to discuss the possibility of refacing our kitchen cabinets in which we had experienced several years prior. The consultant from Nu-Life Cabinets made a stop at our home and was extrememly helpful through samples, recommendations and assuring of timing. We placed the order and within a few weeks the men were at the door ready to start refacing our tired kitchen cabinets. They were timely, pleasant, took pride in their work and with minimal mess. With the affordable refacing we now have a new kitchen!" "Please give Nu-Life Cabinets the opportunity and you will be pleasantly pleased."
"Ray did a wonderful job offering suggestions to maximize my storage space and providing me with a wonderful selection to choose from. I was told the project would take a week and it took exactly 1 week. They did not stray from my budget. Josh did an amazing job with my install. He was wonderful to call me and ask for my opinion on where I wanted outlets placed and if I was happy with the progress, or if there was anything I would like done differently. My kitchen is BEAUTIFUL and I would recommend Nu-Life Cabinets to anyone who is looking to remodel."
"We hired Nu-Life Cabinets for our kitchen the spring of 2012. We were very pleased with all the options available to us and for the advice in choosing a countertop and backsplash to match the cabinet finish we wanted. The crew was great! Each worker we encountered was polite and hardworking. They answered all our questions and went above and beyond to trim out a new window we had put in, and to fix up a "crooked" cabinet (it was our cabinet – not their fault, but they fixed it up at no extra charge to us). Nu-Life is a one-stop shop – we did not have to shop elsewhere or line up any other contractors. They were done in 5 days and our kitchen looks great! I feel that they represented themselves honestly and run their business with integrity. I would definitely recommend Nu-Life to anyone (and I highly recommend the walnut finish for your cabinetry)!"
"Nu-Life Cabinets refaced my kitchen cabinets, replaced my sink and I have new countertops! In my bathroom, they replaced the tub/tile, and I had to move a wall. They built and installed a new vanity cabinet and sink. They were very helpful with ideas and willing to change when the original plan didn't work, workout any additional cost. Nu-Life has very efficient workers that came in and did the work. Yes, I would hire them again!"
"We had Nu-Life Cabinets come and reface our kitchen and bathroom with new countertops, sinks, pantry closet re-built, 2 cabinets cut out and a new cabinet added. They started the project a week early and finished the majority of the project in 4 days. The 3 gentlemen working here were extremely professional & polite. I am very satisfied with the end result! Yes, I would hire them again!"
"Nu-Life refaced the kitchen cabinets and the adjoining half bath and provided new doors and drawer faces. In the process they built the lower cabinets to the correct height and built two new cabinet boxes to accomodate the new kitchen layout. Nu-Life replaced the countertop, installed a new undermount sink, faucet, and garbage disposal. Everything went smoothly, the crew was punctual and courteous. They set up sheeting to keep construction dust to a minimum and cleaned up at the end of each day. I enjoyed working with Ray on the design of the project. He listened to my ideas and interjected his own where appropriate. Near the end of the project there were a couple of details I wasn't satisfied with and Nu-Life took care of finishing them. Totally happy with my new kitchen and very pleased that I used Nu-Life! I have had many, many compliments and have recommended Ray without hesitation."
"Thank you so much for your professional work on our kitchen. We absolutely LOVE what you did. At our previous home, we did an entire kitchen remodel and it was such a lengthy and expensive project. This time around, we used your company for a remodel that included refacing our new home's cabinets. WOW! What a difference! I loved how quickly you completed the project and the quality of workmanship that you gave us. I highly recommend the service we received and because we refaced instead of replacing our cabinets, we saved a ton of money! Also, the entire cabinetry process was done in about 5 days. When I wanted something redone because it wasn't exactly how I wanted it, they came out right away and changed it. If you are looking to remodel, check them out! I highly recommend Nu-Life Cabinets and thank you so much for my "new" kitchen. I couldn't be happier with it!"
"I just wanted to let you know how pleased we are with our new kitchen cabinets. They're perfect and I love the big pull out drawers, as they are so handy to use. The job was done very nicely and I love the wood……the wholelook in my kitchen is just beautiful!!! It's turned out even better than I thought would be possible. My next project is to reface the bathroom and put in a new countertop and a mirror framed in wood. Thanks again Nu-Life Cabinets!"
"Ray Lyon was our contact. He was patient and helpful. Nu-Life Cabinets workers were respectful and skilled work was done on time and of superior quality"
"Thank You Nu-Life for our beautiful new kitchen! The transformation is truely unbelievable. From start to finish, everything was handled in a professional manner and we couldn't be more pleased. We would definitely recommend your company to anyone and everyone looking to make home improvements at a very reasonable cost. Thanks again!"
"Nu-Life Cabinets refaced our existing cabinets along with getting some new cabinet doors and drawer fronts and countertop! The Nu-Life crew did an excellent job installing and cleaned up at the end. It only took them 3 days and the crew of 3 men was absolutely perfect!!"
"Ray and his team at Nu-Life are absolutely some of the best in the construction industry! Home or commercial jobs, they can do it all. We are building a new house and had Ray and his crew build and install Corian countertops."
"His quality of workmanship is EXCELLENT! I felt very comfortable around Ray as he and his crew are very professional and trustworthy. In this day and age, it is so difficult to find contractors that you don't have to "babysit"."
"We didn't have to be on the job site to oversee any of it. Ray comes in, gets the job done right in record time, and his prices are very reasonable! Thank you Nu-Life!"
"The kitchen looks great! I'm already loving the new sink and quartz countertop……so much easier to keep clean. The Nu-Life workers are all extremely polite! They always treated me very respectfully and I could hear that they treated each other that way as well. You obviously hire good people."
"Ray & Nu-Life Cabinet Staff" "You all were so wonderful to work with during our house project! We wanted to thank each and everyone who was on the scene and behind the scene who helped pull it off – It was refreshing to be dealt with with respect and concern's we had taken care of at once. You are all awesome!!" "There are "NO WORRIES" that your company will be successful for many years!"
"I just wanted to let you know how pleased we are with the counter tops and backsplash in our kitchen! I have given your name to several people as I feel you and your team just do an excellent job. Thank you again for the excellent work you did. I now have a kitchen I love working in and love showing to people. Your guys are the best!"
"Ray was very helpful when we selected finish options and layout. Josh and the rest of the crew were polite and respectful. They were always punctual, and did high quality work. We are very happy with our new kitchen and we really enjoy the pull-outs and lazy susans. We have recommended Nu-Life to some friends and we will continue to do so.
"Sales call was Great! The crew were all very polite and kept the place tidy. I am very satisfied with the install from Nu-Life Cabinets."
" From the very beginning Ray and his team were very professional, provided excellent customer service and delivered a wonderful product all while hitting their estimated project cost. It was evident from the beginning when Ray, the owner, came over for the quote and he began assisting my wife and I on picking the correct doors that would work best, choosing hardware that worked with the doors, giving us many examples of his work by showing pictures on his IPAD and more. Ray was genuine and never pushy in discussing the project. He never tried selling us "extras" as many do. He listened to our vision, helped us tweak that vision to work in the space we had, and executed a fantastic plan to bring our outdated kitchen to our new modern kitchen we had dreamed of. Ray's staff were all very respectful of our home, laying down rugs to protect floors, putting up zipper walls to contain dust and cleaned up every night before they left. This crew was dedicated to their company and our project. They drove 2 hoursone way everyday for almost 2 weeks completing our project. I cannot say enough about the staff and how professional they all were. If you choose any other company to do your project, you are paying too much and I guarantee you are not getting the kind of customer service you would be getting from Nu-Life."
"If you are going to do a cabinet reface and can't decide whether or not to do the mitered doors, ALWAYS choose the mittered doors! They are more money but way worth it. The doors they put on were custom made by them in their shop and they are amazing! They have heavy duty, detachable door hardware that makes cleaning the doors so easy. Our tile and stone backsplash makes the entire project,and is our favorite part. Since your doors will be taken off and replaced in a refacing, spend a little extra and have them add the large pull out drawers that make accessing pots and pans so much easier. We also changed our lazy suzan and love it."
"Our bathroom project was smaller but just as fantastic. We took out 1 sink cheap looking vanity and Nu-Life replaced it with a custom 2 sink, solid surface wave bowl double sink vanity. It came complete with custom mirror frames they matched to the rope mitered doors. We chose new lighting above each sink and an on counter cabinet that splits the 2 sinks."
"The bathroom project required drywall tear out, electrical and plumbing additions, drywall repair, cabinet and sink installs. The quality of work was outstanding and this project turned out just as good as the kitchen."
"Out of both projects I only had 1 issue. They lowered the kitchen bar on our island to a more usable height. After they lowered it, I noticed the top counter was a bit loose. I brought it to the attention of the supervisor and he immediately fixed the problem and it is solid as a rock. He never complained or tried to push it off, he fixed it without question or complaint. These crews worked so hard and so efficient while they were here and we appreciated that very much."
"I called a couple other folks that had used Ray before I felt comfortable with hiring them and I heard nothing but great things. Now I will be the one getting called by those looking to hire Nu-Life, and I will recommend them to anyone. I want to thank Nu-Life team for a fantastic experience."
Hi Ray,
Here is our testimony for our kitchen remodel:
"We had our kitchen cupboards refaced, our counter replaced, a new sink added and new back splash added. Ray did a great job of walking us through the entire process and giving us his thoughts and expertise. Once the work was started, Kyle and Brian kept us updated, on each step of the process. At the last minute, we asked them to add our new kitchen faucet and the were more than willing to add that to what they were completing. We are very happy with our kitchen update and would definitely recommend Nu-Life Cabinets."
Thanks,
Shelle